Abuse of Power:
Feds Promise Crackdown on Parents for Speaking Out
U.S. Attorney General Merrick Garland's October 4 memo accusing parents of "harassment, intimidation," and "threats of violence" for speaking out at school board meetings would be laughable if it didn't carry the weight of the federal government.
Garland's memo pledged the DOJ's commitment to "using its authority and resources" to discourage these threats, identify them when they occur, and prosecute them when appropriate." It promised to announce "a series of measures designed to address the rise in criminal conduct directed toward school board personnel." To date, no such threats have been identified except for a lone, ostensible, and widely publicized arrest that occurred during a June 22 school board meeting in Loudoun County, Virginia.
The unprecedented threat of FBI investigation of law-abiding American citizens under the Patriot Act and various other laws for daring to protest offensive and often secretive curricula in public schools is allegedly based on a request by the far-left National School Boards Association (NSBA) in a letter to President Biden. The NSBA is an umbrella organization for state school boards across the country, but not all of them march in lockstep with the national group.
As The Daily Signal opined: "Most of the letter is the National School Boards Association clutching its pearls, aghast that justifiably angry parents are zealously advocating for their children's interest. The tactics thus far employed certainly are nothing compared to the riots of the summer of 2020 that destroyed over a billion dollars in property and resulted in multiple deaths." The NSBA evidently has no problem with this actual violence as opposed to the mythical violence taking place at school board meetings.
AG Garland's Conflict of Interest
It's anyone's guess whether Attorney General Merrick Garland's tough stance against parents will collapse under the weight of his obvious conflict of interest uncovered by
Parents Defending Education
(PDE) and reported by
Fox News
, among other outlets. Garland's son-in-law is co-founder of Panorama Education, "a company that promotes the type of content parents are opposing in their ongoing battle with local school boards."
After Garland's memo became public, Asra Nomani of PDE tweeted "Merrick Garland has declared a war on parents. His daughter is married to the cofounder of
@PanoramaEd
which is under fire for its multimillion contracts with school boards. At
@DefendingEd
, parents sent us tips. We raised the alarm. Now Garland is trying to silence parents."
According to Fox, "PDE previously flagged a $1.8 million contract for Panorama to conduct social and emotional learning (SEL) monitoring in Fairfax County [Virginia's] Public Schools (FCPS), resulting in data on students. Earlier in September, that number was bumped up to more than $2 million as part of a contract addition with Panorama."
Some State School Boards Disagree
The Washington Examiner reported on October 11 that school boards associations in Louisiana and Virginia have denounced a letter "sent to the Justice Department by the National School Boards Association, contending local law enforcement is well equipped to handle any threats directed at school board members."
A witness who has been following the school board confrontations told the Examiner: "Generally speaking, from what I've seen, the only time there's any level of violence is where somebody is at the microphone and the school board cuts them off, and the school board calls in the police to remove a person. I've not seen reports of school board members being attacked, and if they were, it shouldn't happen."
The North Carolina State Board, however, issued a press release that appeared to agree with the NSBA's letter. The text reads in part: "As educators, as parents and as concerned citizens, we respect the rights of our fellow citizens to share their concerns and voice their opinions. However, this must be done without the use of intimidation or intentionally inspiring fear. Every one of us has a responsibility to instill in our children their first amendment rights and responsibilities, but we have an even greater responsibility to model good behavior while doing so."
A local pundit uploaded the press release on Twitter noting: "Reasons parents are getting so hostile: boards ignoring complaints, limited in-person meetings, shutting down public comment, CRT, and masks."
Another Twitter user responded: "Add [to that] board members mobilizing union members to silence or shame parents. There doesn't seem to be an uproar when NCAE [North Carolina Association of Educators] members bully students and their parents. I'm tired of people like [North Carolina Public Schools Superintendent Catherine Truitt] @CTruittNCDPI turning their backs on the people that voted them into office."
"This is such a red herring," Phyllis Schlafly Eagles Researcher Gwen Kelley agreed in reference to the press release. "But parents are so frustrated. We need to encourage them to win back the school boards."
What's it really about?
The NSBA used the arrest of Scott Smith during the Loudoun County School Board's June meeting as the basis for its letter to the Biden Administration. Smith became the "poster child" for alleged parental violence at such meetings when he reacted to a hostile attack by a pro-transgender activist. The discussion at the meeting was focused on a plan to expand special protections to transgender students, which many parents spoke out against. Smith later said he and his wife attended the meeting out of "practical concerns."
Unbeknownst to others at the meeting and to the public at large, Smith's ninth-grade daughter had been sexually assaulted in a high school bathroom by a boy wearing a skirt just the previous month.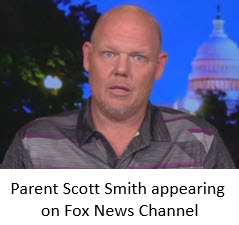 The May assault against Smith's daughter included rape and forcible sodomy, and the student was later charged.
The school notified the Smiths immediately following the attack, but did not call police, and the board covered up the crime at the June meeting. Board member Beth Barts claimed: "Our students do not need to be protected." District Superintendent Scott Ziegler stated: "To my knowledge, we don't have any record of assaults occurring in our restrooms." He added: "I think it's important to keep our perspective on this, we've heard it several times tonight from our public speakers, but the predator transgender student or person simply does not exist."
But at least one predatory student did indeed exist, and the fact that there was a second assault by the same student has recently become public. Smith said that when he tried to confront the board about the crime against his daughter, the pro-transgender activist accused him of fabricating his story and questioned his daughter's mental health. As the exchange became heated, a police officer grabbed his arm, and a scuffle ensued.
Apparently, the right of citizens to express their concerns does not apply to parents who object to irrational mandates that threaten the mental and physical wellbeing of their children. Nor are progressive activists expected to adhere to the rules of behavior that apply to these concerned parents.
Particularly critical here, many believe, is the coverup of an alleged crime in order to advance a radical political agenda. The goal was evidently to pass the additional special protections for transgender students, which Loudoun County officials did on August 1, before the sexual assault by the presumed "transgender" student became public knowledge.
On October 6, the same teen was charged with attacking another female student in an empty classroom. The Smiths' court date was rescheduled for October 25 to accommodate the two separate charges now leveled against the student.
In a special report, Dailywire.com provides more detail about the Smith family's ordeal. The report notes: "School administrators attempted to deal quietly with the matter in-house, and then school board members denied it even happened. Smith was then bloodied and arrested for speaking out, and the county's normally lenient prosecutor threw the book at him. The Smith family then learned their daughter's rapist allegedly sexually assaulted a second girl. Now, the NSBA is using the Smith family's tragedy as justification for mobilizing the federal government against concerned parents."
Conversely, Scott Smith has been given a voice to tell his story on the Fox News Channel's Tucker Carlson Tonight and Laura Ingraham Angle shows. Smith said the tragedy of the past five months has "inspired" him to become involved in local politics, even though he previously had no interest whatsoever in politics.
Some observers fear that the DOJ's threats to unleash the FBI on concerned parents will silence them or at least make them more hesitant to speak out, which is the Biden Administration's presumed goal. Others believe the government "is making a mistake vilifying these parents," as Bill O'Reilly told Glenn Beck recently on Beck's radio show, and that the move will backfire.
Finally, the Daily Signal stated on October 5: "[P]arents need not be afraid. It is their constitutional right to push back in legal ways against schools teaching children critical race theory" and other radical ideology. "Go forth to the school boards and make your voices heard."
UPDATE: As we are about to release this issue of Education Reporter Online, the National School Boards Association has apologized to its members for calling parents "domestic terrorists" and expressed "regret" for its letter to President Biden. In another development, the student accused of sexual assault in the Loudoun County, Virginia School District has been found guilty. More on both these stories next month.
Want to be notified of new Education Reporter content?
Your information will NOT be sold or shared and will ONLY be used to notify you of new content.


Return to Home PageEducation Reporter Online - October 2021